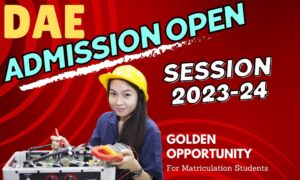 Introduction
Welcome to the Admission Open Session 2023-24 for the Diploma of
Associate Engineering (DAE) in TEVTA Punjab, taught in English & Urdu! If you're looking for
a promising career in engineering, this is your chance to take a step closer to
your dreams. In this post, we'll explore why DAE in TEVTA Punjab is an excellent
choice for your future and guide you through the admission process and eligibility
criteria. So, let's dive in!
Why Choose DAE in TEVTA Punjab?
TEVTA-Punjab is renowned for its quality education and vibrant
engineering industry, making it an ideal place to pursue a DAE. Here are some
compelling reasons why you should consider DAE in TEVTA Punjab:
Cutting-Edge Curriculum: The DAE program in TEVTA Punjab is designed to
equip students with the latest knowledge and technical skills relevant to the
industry, ensuring they are job-ready upon graduation.
Industry-Relevant Training: Students get hands-on training and
exposure to real-world engineering challenges, fostering a practical approach
to problem-solving.
Experienced Faculty: The faculty members are highly qualified and
experienced, providing valuable insights and mentorship to the students.
State-of-the-Art Facilities: Punjab's engineering institutes boast
modern laboratories and facilities, enabling students to experiment and
innovate effectively.
Admission Process
The admission process for DAE in TEVTA Punjab is straightforward and
follows these general steps:
Obtain the Prospectus: Visit the official website of the
respective institution or the nearest admission office to acquire the
prospectus.
Check Eligibility: Review the eligibility criteria mentioned in
the prospectus to ensure you meet the requirements.
Fill out the Application Form: Complete the application form with
accurate information and attach the necessary documents.
Submit the Form: Submit the filled application form along with the
required documents to the admission office within the given deadline. Also Online Apply for the following button.
APPLY NOW
Entrance Test (if applicable): Some institutions may conduct an
entrance test to assess the applicants' aptitude in engineering.
Merit List and Interview: Based on the entrance test (if
applicable) and academic records, the institution will publish a merit list. If the Candidate passes the test then the candidate will be called for an interview.
Confirmation of Admission: Once selected, you will receive a
confirmation letter for admission. Pay attention to the institution's further
instructions.
Eligibility Criteria
To be eligible for the DAE program in TEVTA Punjab, you need to fulfill
the following criteria:
Educational Qualification: Candidates must have completed their
Matriculation (10th grade) with at least a second division.
Age Limit: The age limit for admission is typically between 15 to
20 years.
Relevant Subjects: Candidates must have studied Science subjects
in their Matriculation, including Physics, Chemistry, Computer, and Mathematics.
Minimum Marks: Most institutions require candidates to have a
minimum of 45% to 50% marks in their Matriculation.
Technology (Course) Offered
The DAE program in TEVTA Punjab covers various engineering disciplines. Some
of the frequently offered courses include:
1. Civil Technology
Civil Technology focuses on teaching students about construction
techniques, surveying, and project management, preparing them for roles in the
construction industry.
2. Mechanical Technology
Mechanical Technology equips students with knowledge of machinery,
tools, and mechanical systems, opening doors to careers in manufacturing and
maintenance.
3. Electrical Technology
Electrical Technology delves into electrical systems, electronics,
and power generation, offering opportunities in electrical maintenance and
engineering.
4. Electronics Technology
Electronics Technology emphasizes the study of electronic circuits
and communication systems, preparing students for roles in telecommunications
and electronics.
5. Computer Information Technology
Computer Information Technology focuses on computer hardware,
software, and network administration, paving the way for IT support and network
management careers.
6. Computer Software Technology
Computer Software Technology teaches programming languages and
software development, enabling students to become skilled software developers.
7. Chemical Technology
Chemical Technology involves the study of chemical processes and
laboratory techniques, offering career paths in chemical industries.
8. Textile Technology
Textile Technology focuses on the textile manufacturing process,
equipping students for roles in the textile and fashion industries.
9. Architecture Technology
Architecture Technology emphasizes architectural design and
drafting, preparing students for careers in architectural firms and
construction companies.
10. Auto & Diesel Technology
Auto & Diesel Technology covers automotive mechanics and
diesel engine repair, offering opportunities in automobile workshops and
transportation companies.
11. HVACR Technology
HVACR Technology focuses on heating, ventilation, air
conditioning, and refrigeration systems, opening doors to careers in the HVACR
industry.
12. Instrumentation Technology
Instrumentation Technology involves the study of control systems
and instrumentation, preparing students for roles in automation and process
industries.
13. Metallurgy and Welding Technology
Metallurgy and Welding Technology cover welding techniques and
metalwork, offering career paths in the fabrication and construction industries.
14. Petroleum Technology
Petroleum Technology teaches about oil and gas exploration,
providing opportunities in the oil and gas sector.
15. Architecture Assistantship
Architecture Assistantship focuses on architectural design
support, enabling students to work alongside architects and designers.
16. Chemical Assistantship
Chemical Assistantship involves assisting chemical engineers in
laboratory work and research.
17. Electrical Assistantship
Electrical Assistantship prepares students to assist electrical
engineers in various projects.
18. Electronics Assistantship
Electronics Assistantship involves providing support to
electronics engineers in designing and maintaining electronic systems.
19. Mechanical Assistantship
Mechanical Assistantship offers support roles to mechanical
engineers in their projects and tasks.
20. Auto & Diesel Assistantship
Auto & Diesel Assistantship focuses on assisting automobile
and diesel mechanics in their daily work.
21. HVACR Assistantship
HVACR Assistantship involves assisting professionals in the
heating, ventilation, air conditioning, and refrigeration industry.
22. Garments Technology
Garments Technology covers the production and design of garments,
opening doors to the fashion industry.
23. Food Technology
Food Technology teaches about food processing and preservation,
offering opportunities in the food industry.
24. Hospitality Management
Hospitality Management focuses on managing hospitality
establishments, preparing students for careers in the hotel and tourism
sectors.
25. Textile Dyeing & Printing Technology
Textile Dyeing & Printing Technology involves the study of
fabric dyeing and printing processes.
26. Interior Design and Event Management
Interior Design and Event Management teaches about designing
interior spaces and organizing events.
27. Jewelry Design and Gemology
Jewelry Design and Gemology covers the art of jewelry making and
the study of gemstones.
28. Poultry Farming Management
Poultry Farming Management focuses on the management of poultry
farms and related operations.
29. Civil Draftsman
Civil Draftsman involves creating technical drawings and plans for
construction projects.
30. AutoCAD Operator
AutoCAD Operator focuses on computer-aided design skills for
various industries.
31. Web Design and Development
Web Design and Development covers the creation of websites and web
applications.
The choice of specialization will depend on your interests and
career goals. Take the time to research each field to make an informed
decision.
Career Prospects
A DAE in Punjab opens up numerous opportunities for a successful
career in the engineering industry. Graduates are highly sought after by
employers due to their practical skills and technical knowledge. Some potential
career paths include:
Junior Engineer
Lab Technician
CAD Designer
Electronics Technician
Quality Control Inspector
Maintenance Technician
Field Service Engineer
The engineering sector offers excellent growth prospects,
competitive salaries, and the chance to work on exciting projects. Many DAE
graduates eventually pursue higher education or become entrepreneurs in their
respective fields.
Frequently Asked Questions (FAQs)
Q1: Can I apply for DAE if I have completed my O-levels instead of
Matriculation?
A: No, the minimum educational requirement for DAE admission in
Punjab is the successful completion of Matriculation (10th grade) with Science
subjects.
Q2: Do protected categories have any age restrictions?
A: Yes, some institutions may provide age relaxations for
candidates belonging to reserved categories. Check with the specific
institution for more information.
Q3: Is the DAE program affiliated with any university?
A: Yes, the DAE program is affiliated with the Punjab Board of
Technical Education (PBTE), ensuring its credibility and recognition.
Q4: What is the duration of the DAE program?
A: The DAE program usually spans three years, including
theoretical courses, practical training, and industrial visits.
Conclusion
Congratulations on taking the first step towards a rewarding
career by considering DAE in Punjab! The engineering field offers endless
possibilities for growth and contribution to society. Remember to thoroughly
research the institutes offering the DAE program, their specializations, and
their placement records.
If you meet the eligibility criteria, don't hesitate to apply for
the admission process and embark on this exciting journey. For more information
or any queries, reach out to the respective institutions or explore their
official websites.